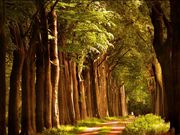 This is the BloodClan Camp. All of the cats of BloodClan live here.
The camp of BloodClan is a plane thickly surrounded by trees. The dens of BloodClan are made in the roots of trees, or in hollowed out trees, for protection. There is a fresh-kill pile in the center of the camp, which is the only thing not in a tree. Most of the day-to-day operations of the Clan happen here.
From Here You Can Go To....
Dens
Roleplay
Refreshed